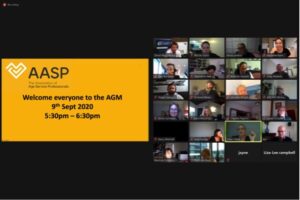 The Association of Age Service Professionals (AASP) is a not for profit professional association representing members working in the disability, retirement and aged care industries. AASP recently held it's AGM via Zoom to reflect on industry changes in light of COVID19, to continue to support our members and celebrate our achievements over the last year.
AASP Chair Jillian Slade, commented;
"The year 2020 commenced as normal with no one realising what lay ahead and how our life as we knew it would change dramatically. With all these changes to how we now do business, we as an association have continued to hold our monthly committee meetings and our quarterly general meetings via Zoom. We had hoped that by the time this AGM came around we would be able to meet face to face, but when that will happen is still an unknown."
Despite Covid19 AASP has pushed ahead to achieve goals that best service our members and the clients they assist.
Membership:
Our membership has grown to 56, and we expect this to continue in 2020/2021. We have welcomed 4 members from NSW and with the help of our new NSW representative role on the committee, we hope to grow this further in both NSW and Qld.
New members were welcomed, representative of industries from which our membership is drawn, they included Aged Care Providers, Financial Advisers and Estate Planning.
A tiered membership was introduced –   full membership for professionals working within the aged, disability and home care sectors, and an associate membership for providers.
Member Training
As an association we remain focused on supporting the development of our members to provide quality care to their clients. We launched 2 comprehensive training modules on the 'Aged Care Process' and 'Aged Care Financials' with the requirement that all members complete the training.
Our goals for 20/21 include –
Growing our membership in Victoria and NSW.
Increased Industry presence and relevance.
Continue policy development.
Increased support to our members.
Guest Speakers –
Guest speakers for the year included Gerard Mansour, Commissioner for Senior Victorians, and Tina Hogarth-Clarke CEO of COTA Vic and Stephanie Reeves and Anna Cameron, Directors of Ageing By Design.
Governance & Compliance
We successfully applied to become an Australian Registered Body with ASIC allowing our association to operate nationally. Our policies and guidelines have expanded to further strengthen the associations governance.
Submissions
The AASP made a submission to the Aged Care Royal Commission regarding adequate financing for residential aged care which raised several concerns and proposed solutions.
The future of AASP
The association wishes to thank the previous committee for their tireless work over the last year and to all members for their continued support. Congratulations to the newly elected committee members for 2020/21:.
Returning committee members (pictured):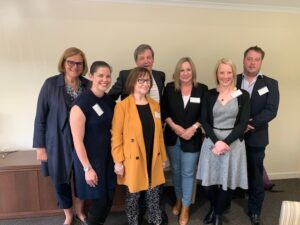 Jillian Slade – Chair
Nicole Dunn – Vice Chair / Social Media
Sara Cook – Secretary
David MacManus – Treasurer
Anna Lawton – Professional Development
Paul Dwyer – National Progression and Govt submissions
Martina Costanzo – Governance and Policy
Newly elected Committee Members:
Danielle Robertson – NSW Representative (picitured)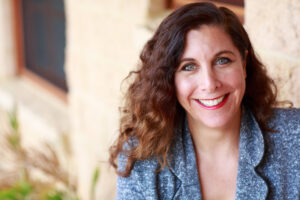 Shaun Ganguly – Membership (pictured)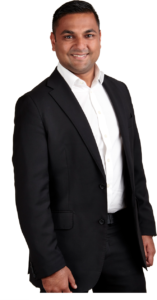 Sub Committee:
Liza-Lee Campbell
Sally Gilbert
Mission Statement & Goals
We reaffirmed our mission statement "AASP's mission is to be the principal guiding body for private service providers in aged, disability and retirement industries, setting standards of excellence in ethical and professional practises. To advocate for the people who engage services with integrity and respect for dignity, social and cultural needs and preferences."
Covid-19 Issue Log
A resolution was made for AASP to set up a Covid-19 Issue Log to help effect change. The Association will endeavour to gather information through its membership on the issues their clients/consumers are experiencing during the pandemic.